My dad has come to Delhi for attestation of some documents by Iraqi embassy. So, mom and I also accompanied him to Delhi from Ranchi.
I went with my dad. Mom was resting at the hotel. After depositing the document at Ministry of External Affairs for their attestation before it's attested by the Iraqi embassy, Dad & I went for a walk from Patiala House towards Connaught Place. We then walked into the historic Ugrasen ki Baoli.
Ancient Indians used to build water temples as well as earliest forms of step wells and reservoirs.
Ugrasen ki Baoli (a.k.a. Agrasen ki Baoli) is one of such step wells in Delhi.
It is designated a protected monument by the Archeological Survey of India (ASI). It's a 60-meter long and 15-meter wide historical step well on Hailey Road near Connaught Place in New Delhi.
Baoli or baori is a Hindi word (from Sanskrit vapi, vapika). Water temples and temple step wells were built in ancient India and the earliest forms of step well and reservoir were also built in India in places like Dholavira as far back as the Indus Valley Civilisation.
Although there are no known historical records to prove who built Agrasen ki Baoli, it is believed that it was originally built by the legendary king Agrasen during the Mahabharat epic era and rebuilt in the 14th century by the Agrawal community which traces its origin to Maharaja Agrasen.
The Baoli is a unique blend of architecture with an impressive design known to have existed centuries ago. The red stone walls of the Baoli, dressed with a series of arched structure are grim and desolate, but still beautiful.
The Baoli is made up of a series of superimposed arches supported on piers or columns. It consists of 103 steps made of red stones.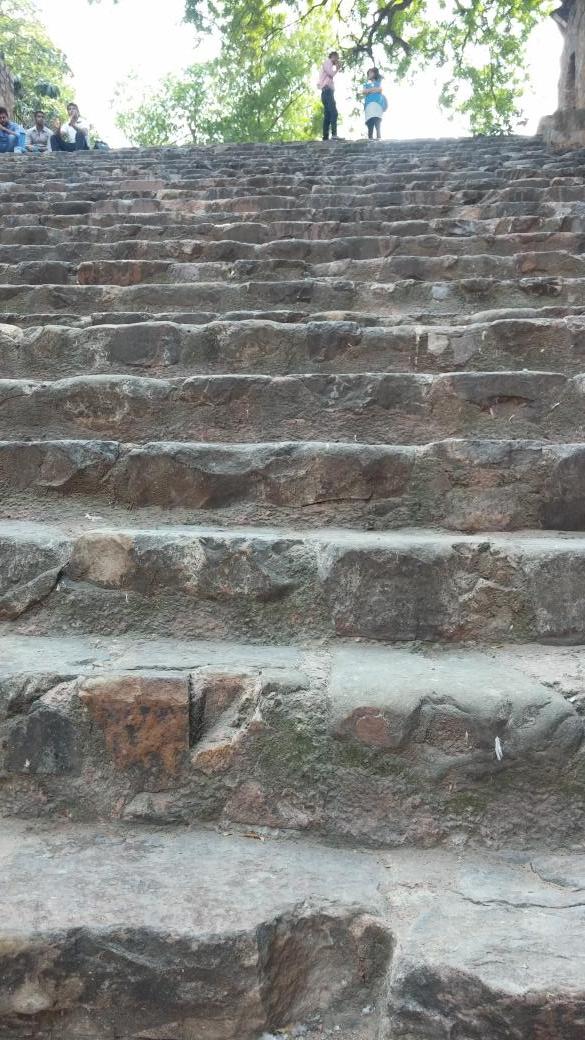 The Baoli had water till recent times, but now it has dried up and one can see the bed of the reservoir.
It is well known for the pigeons and bats residing in the lofty places of the reservoir.
It is a cool and silent place in the heart of the capital. The silence deepens as one moves to the bottom of the stairs, and the gradual increase in the gurgling sound of pigeons, and squeaky chatter of bats echoing off the stone walls makes this place creepy.
The mystic architecture is definitely worth a visit.